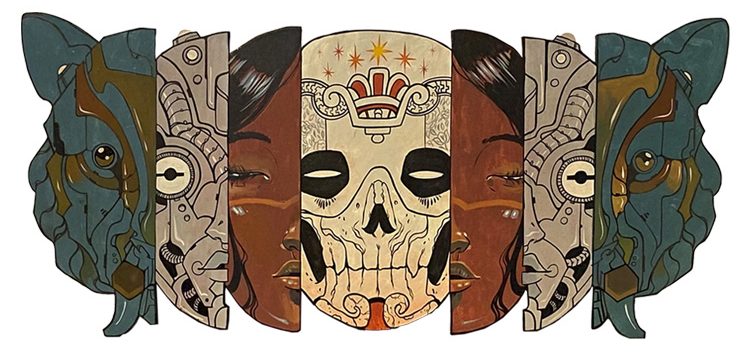 La Casita will mark the beginning of National Hispanic Heritage Month 2023 with a community-wide event and exhibit opening on September 15, 2023 from 6:00 PM – 8:00 PM. The exhibit, Futurismo Latino: Cultural Memory and Imagined Worlds, will highlight the works of Chicano artists Cayetano Valenzuela, Zeke Peña, and the La Casita's youth community.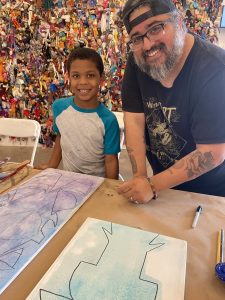 Cayetano Valenzuela is a Syracuse-based artist and storyteller whose lettering, illustration, and animations evoke wonder, magic, and fable. He owns and operates the Black Rabbit Studio in the Delavan Center. Valenzuela was a teaching artist in La Casita's summer 2023 youth program, where children produced artwork that reflects on the intersection of Latino culture, technology, and imagination, instilling creativity, resilience and empowerment in our youth. Generous support for La Casita's youth summer workshops came from the Jim & Juli Boeheim Foundation.
"I am seeking to imagine and construct images that symbolize and embody far off possible futures that are informed by how we carry our culture, our family, and ancestral memory with us," Valenzuela explains. "The work I am developing seeks to explore ideas of cultural and technological fusion as well as poetic spiritual tenderness." 
Zeke Peña is a Chicano storyteller and cartoonist from El Paso, Texas. His work encompasses political cartoons and hip-hop culture to address topics of identity, politics, ecology, and social justice. Peña has received numerous recognitions for his book illustrations, including the 2020 Pura Belpré Illustrator Honor Award.  The 2020 Tomás Rivera Mexican American Children's book and the Bank Street' Best Spanish Language awards have both recognized him for his work in American and Chicano art collections. 

The exhibition seeks to reconfigure a vision of the future where Latino/Chicano culture is in flux and centered in the story of the far future. Production of the exhibit is supported by the Mexican Student Association (MexSA) and several other student organizations from across Syracuse University. The installation of original paintings, drawings, prints and three-dimensional pieces will remain on view throughout the 2023-24 academic year.
The opening event on September 15 will include lively Latin music and authentic Mexican food. Transportation between College Place (on Syracuse University's campus) and La Casita will be provided for students from 5:00 PM – 9:00 PM. This transportation is courtesy of the Office of Diversity and Inclusion. The event is free and open to the public.