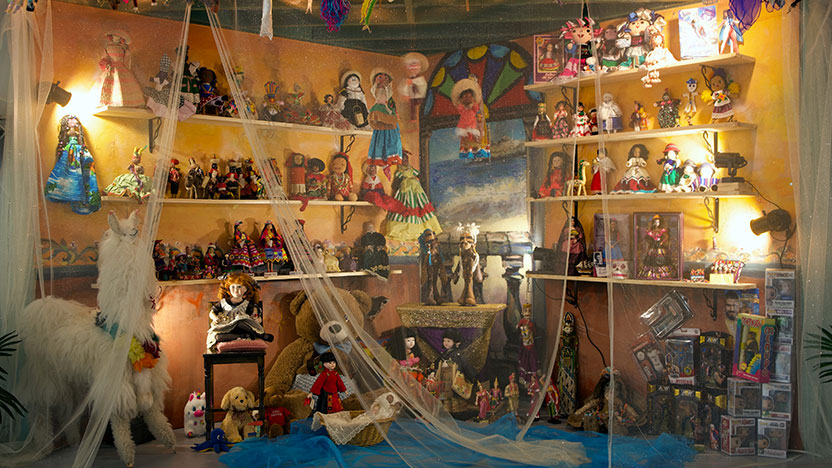 La Casita fall 2022 exhibit: Once Upon a Time… A Toy Show / Erase una vez… un show de juguetes, presents work by Latin American and US artists inspired by dolls and toys as the gallery transforms into an interactive playground. The fall 2022 exhibit features work by artists Matías Roth, Dashel Hernández, Rochele Royster, Jaleel Campbell, a collaborative piece by Liliana Porter and Ana Tiscornia, and a 9 ft. mural by Abisay Puentes, teaching artist at La Casita, who created the piece with the children as part of the activities of the summer 2022 youth programs.
This new exhibition is at the center of a series of inter-generational community dialogues, the Diálogos series, that will be taking place at La Casita through the fall of 2022 and spring 2023. The sessions will be recorded and preserved by La Casita's digital Cultural Memory Archive, established in 2013 as a resource for education and scholarly research. Participation in the upcoming Diálogos series is coordinated through La Casita's Community Engagement office.
"Toys contain stories about all of us," said Tere Paniagua ('82), Executive Director of the Office of Cultural Engagement for the Hispanic Community and co-curator of the project. "This showcase serves to establish a common thread that unites us as a community by examining the vast range and depth of experiences that have an imprint on who we are and shape our future generations."
Toys are a testimony not only of human creativity but also of intercultural connections across generations. In a toy that we recall from our childhood, there are memories associated with our collective and personal stories. Toys live in our stories and their significance lies in their capacity to encompass stories from one generation to another.
La Casita is a program of Syracuse University established in 2011 to advance an educational and cultural agenda of civic engagement through research, cultural heritage preservation, media studies, and the arts, bridging the Hispanic communities of Syracuse University and Central New York.
LA CASITA CULTURAL CENTER
Lincoln Bldg. (Ground Floor) at 109 Otisco St. Syracuse NY 13204
Tel. 315.443.2152 / Email: lacasita@syr.edu
Website: http://lacasita.syr.edu/
GALLERY HOURS
Tuesday through Friday 12-6pm / Saturdays 12-3pm
Admission is free and open to the public