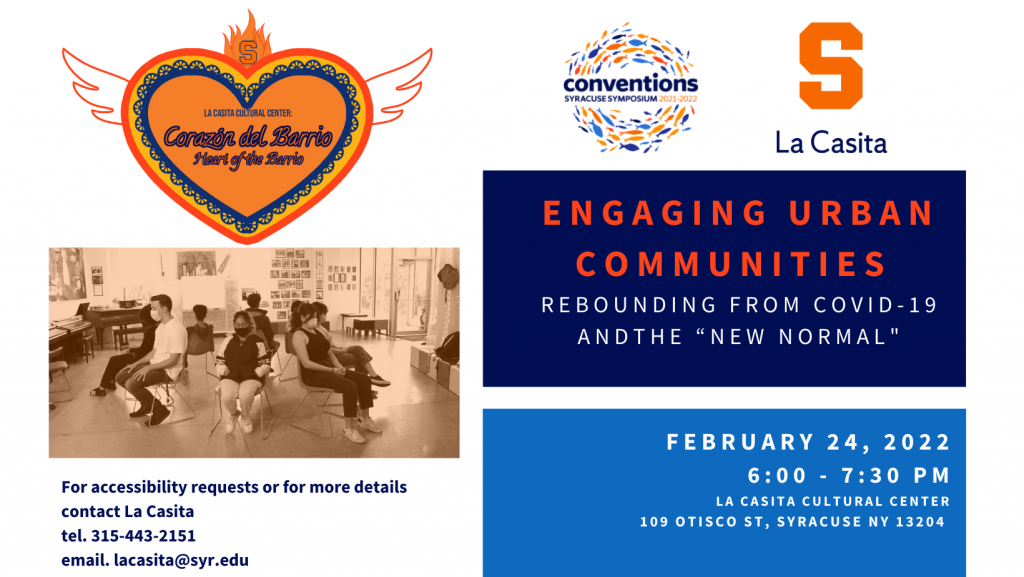 Engaging Urban Communities: Rebounding from COVID-19 and the "New Normal" will be the focus of open dialogue at La Casita on Thursday, February 24, from 6:00pm to 7:30pm. This event will be held in person at La Casita and via Zoom. A group of panelists to lead the discussion will include Syracuse University faculty, students, and community partners across the City of Syracuse. Admission is free and open to the public. Face masks are required, along with proof of vaccination or a negative COVID test result.
As we all try to regain some normalcy past COVID-19 related lockdowns, isolation, and loss, engagement with and support for largely marginalized urban communities has presented vast challenges. This dialogue will focus on the many roles of community-based programs, and the challenges in community building and participation.
A cohort of panelists will reflect on the experiences, inadequacies, and successes of various community engagement initiatives as programs reopen to the public. The panel will be moderated by Tere Paniagua, executive director, Office of Cultural Engagement for the Hispanic Community at Syracuse University, and will include:
BEA GONZÁLEZ
Community Organizer & former VP of Community Engagement at Syracuse University
FANNY VILLARREAL
Executive Director, YWCA
ELISA MORALES
Executive Director, Spanish Action League of Onondaga County
EMMA TICIO
Associate Professor of Spanish; Chair of the Department of Languages, Literatures & Linguistics at Syracuse University
BRICE NORDQUIST
Arts & Sciences Dean's Professor of Community Engagement at Syracuse University
ZACHARY PEARSON
MSW candidate at Syracuse University's School of Social Work
LIZMARIE MONTEMAYOR
Engaged Humanities SOURCE undergraduate researcher at Syracuse University
ZAKERY MUÑOZ
PhD candidate, Writing and Rhetoric at Syracuse University
More details and online registration can be found here: Zoom Registration Link .
For accessibility requests or for more details contact La Casita at lacasita@syr.edu or by calling (315) 443-2151. This Program is part of the 2021-22 Syracuse Symposium on Conventions.