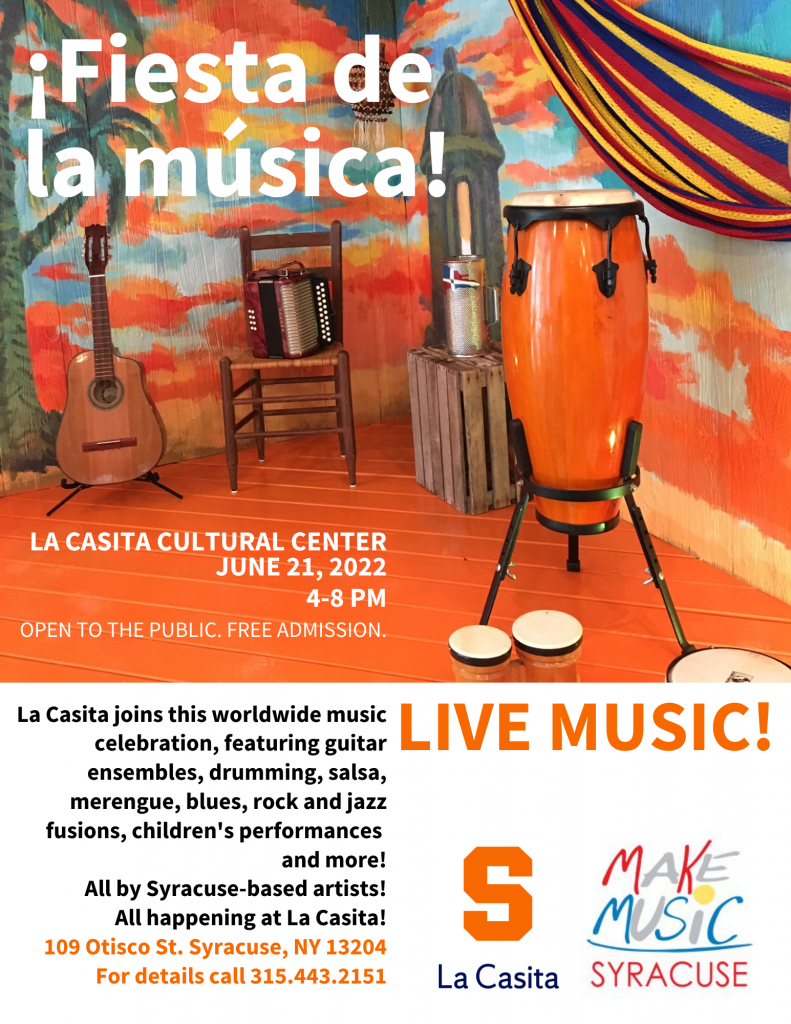 La Casita, in partnership with CNY Arts, will join in the global music celebration of Make Music Day on June 21, 2022. La Casita will host its Fiesta de la Música an afternoon open house showcasing live performances by Syracuse University students, recent graduates and alums with musicians from the City's Westside community. Performances at La Casita will include an acoustic guitar ensemble, drumming & percussion, Latin music, blues, rock & jazz fusions, children's performances, and more. Live music will fill La Casita on the evening of the summer solstice! Admission to this event is free and open to the public. Light refreshments will be served.
Students and alums of Syracuse University performing at this event include: Liamna Pestana ('22), Sebastian Escribano ('20), Hector Prieto (G'23) and Zachary Pearson (G'22). "These talented musicians and scholars have dedicated a great deal of their time at Syracuse University to serving La Casita's children as arts and music instructors, facilitating workshops and weekly classes," said Tere Paniagua ('82), executive director of the Office of Cultural Engagement for the Hispanic Community. "Their commitment to our youth is truly admirable and we all look forward to seeing them perform with the kids and with some of our long-established Westside musicians. Very exciting!"
"Music education brings an opportunity for children to connect with a sense of harmony and freedom," said Catalina Niño Cordero (G'22), community engagement coordinator at la Casita. "They learn to express themselves with joy, while developing the ability to align with others in a positive common goal to achieve together. Music at La Casita presents an opportunity to support families in their desire to provide children with a positive sense of belonging and a nurturing social environment where they feel acknowledged."
The history of Make Music Day begins 40 years ago in France, when the Ministry of Culture envisioned a holiday dedicated to celebrating and appreciating music; a day where musicians would fill the streets and perform live and free music for everyone to enjoy across the French Republic. This dream became a reality in 1982, when June 21st became a holiday named Fête de la Musique (Festival of Music). The celebration has become a global phenomenon where over 1000 cities around the world now participate every year.
In accordance with this annual holiday tradition, iconic landmarks and buildings used as venues for the event in the U.S. will light up or be decorated in orange, a color representing the sun and commemorating the summer solstice. Orange, of course, has a very special significance for all of us at Syracuse University!
Open to the Public. Free Admission. Light refreshments will be served. Support for this program comes from CNY Arts and Syracuse University. For more information and updates about this event, visit La Casita's Facebook Event Page:
Fiesta de la Musica/Make Music Day Facebook Event