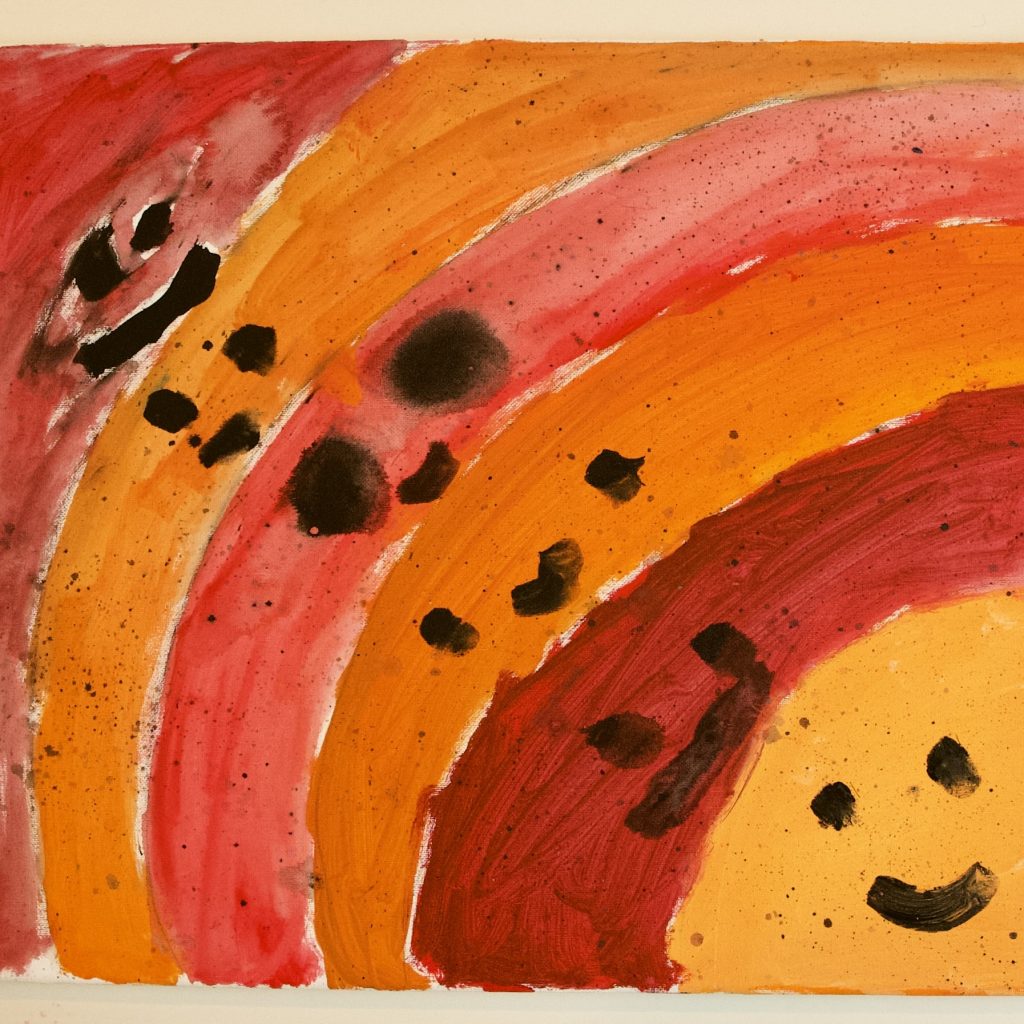 Syracuse University students team up with La Casita Cultural Center in the annual spring exhibit YOUNG ART 2022/ARTE JOVEN 2022, now open to the public Monday to Friday, from 12pm to 5pm through June 30.
Dozens of Syracuse University students partnered with La Casita this spring to design and facilitate youth programs in this off-campus program of the College of Arts & Sciences, located in the heart of the Near Westside of Syracuse. The cohort of programming coordinators and instructors included students from the School of Social Work, Public Health, Creative Arts Therapy, Museum Studies, Setnor School of Music, Department of Writing Studies, Rhetoric and Composition, College of Engineering & Computer Sciences, among various other academic units collaborating as a team. Students from SUNY Upstate Medical University also contributed significantly in all areas of programming.
The Young Art exhibit recognizes the talent and achievements of local youth enrolled in arts education programs offered by guest artists and partner organizations, with the support of Syracuse University. La Casita is located at 109 Otisco St, Syracuse 13204.
La Casita welcomes the Narratio Fellows and youth from the Northside Learning Center on May 5th starting at 6pm, for a special poetry and photography presentation titled "Conventions of Care", that is part of the show.
La Casita's partner agencies this year also include the Huntington Family Centers and the Boys & Girls Club of Syracuse. Youth arts programs from both organizations are represented in the exhibit. The Huntington program co-hosted a Writing Workshop led by Syracuse University students Ting "Kelly" Xu (G '22), Camila Paez ('22), Daniela Dorado ('24) and Megan Rienzo ('24). The workshop culminated with the release of a book titled Reflections, Notes for a Personal Journey. written and illustrated by teens at Huntington. A painting workshop also led by Syracuse University students took place at the Boys & Girls Club. The workshop produced a collection of paintings now on view at La Casita.
"We are happy to bring back this important event where our young artists can be recognized and celebrated by the larger community," said Tere Paniagua, executive director of the Office of Cultural Engagement for the Hispanic Community and director of La Casita. "Now more than ever, we must aim to inspire our youth through explorations in creativity and self-expression as a way to cope and heal from the traumatic experiences of the last two years."
A native of Havana, Cuba, La Casita's teaching artist, Abisay Puentes, has been leading drawing and painting classes since last fall. Puentes is currently exhibiting a collection of his own visual and aural compositions titled Paradox, at the Everson Museum of Art in Syracuse. La Casita's show will present over 60 pieces from the workshops led by Puentes, assisted by Puerto Rican artist Richard Riefkohl.
A collection of work will also be presented by the Experimental Art workshops led by Jessica McGhee, a graduate student in Syracuse University's Creative Arts Therapy program at the College of Visual & Performing Arts.
Liamna Pestana-Roche ('22) has worked with young participants in music and dual language literacy programs at La Casita for the last six years, encouraging young artists to explore and develop their abilities. This year, her young authors in the Writing Workshop produced a new publication, Poemitas /Little Poems. This is the 5th children's book released by La Casita in the last six years. Pestana-Roche was assisted by Syracuse University alumna, Ivette Cruz (G'18) and Yinzhu "Jullie" Zhao ('23).
"It is always a pleasure to work on projects that illuminate the heart; that bring you closer to those little hearts always ready to give and receive love. Every project has been an adventure and this time, the adventure was of no less importance. On the contrary, exploring emotions when the world is so full of adversity, sadness, and problems of various kinds feels like a titan's job," said Pestana-Roche.
Syracuse University members of the Society of Hispanic Professionals in Engineering (SHPE) student organization, and their STEAM youth workshops at La Casita, also produced work that is now on view. Workshops were led by Jenifer Pena ('22) and Mohammed Ali ('22).
For more information about this exhibition program and about La Casita's free youth programs, please contact Catalina Niño at 315.443.2151 or via email at lacasita@syr.edu.
La Casita is a vibrant cultural, artistic, and educational center supported by Syracuse University's College of Arts and Sciences. The center is committed to promoting and documenting the arts and culture of Central New York's Latinx/Latin American community through collaborative programming in the visual and expressive arts, education, and civic engagement.