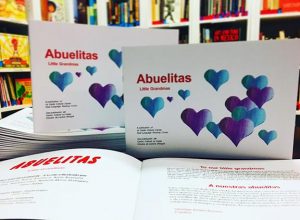 La Casita presents its 4th bilingual edition now also in print. This bilingual edition was written and illustrated by the children the Dual Language Reading Circles after-school program at La Casita Cultural Center in Syracuse, NY. It was released on September 18, 2020 as part of the Abuelas exhibition program commemorating the start of Latinx/Hispanic Heritage Month and features our authors memories of special times with their Abuelas (Grandmothers).
CONGRATULATIONS to our young authors!
Ailanees León (7th grade, Liverpool School District), Aliana Russell Anamaría (9th grade, Charter Schools of Syracuse NY), Karla Anamaría (5th grade, Liverpool School District), Kiana Anamaría (7th grade, Liverpool School District), Lalazia Daniels (6th grade, Syracuse City School District), Talivo Salley (3rd grade, Syracuse City School District), and Naibella Morris-Rodríguez (Catholic Schools of the Diocese of Syracuse NY)
A huge THANK YOU to our partners who collaborated in this publication project:
SU professor Emma Ticio and her students of Spanish 439/639: Language in Action, who assisted in the writing workshops with the children as well as the editing of the Spanish translation and graphic composition.
Our Coeditors: Christian Andino Borrero, Margot Clark and Dragana Drobnjak.
Our student volunteers in the writing workshops: Paul Alfonso Soto, Andrea Moreno Nogueda, Madison Snyder, César Iván Suárez, Pariz Malik, Grace Del Pino, and Julia Del Pino
To order a copy of the book for $10 please email La Casita : lacasita@syr.edu. All proceeds go to support our Dual Language Literacy Program.
Support comes from the Humanities Center at Syracuse University and the 2020 Syracuse Symposium on Futures.